Inner Temple Traditions/Inner Convocation
The Online Home of R.J. Stewart and Anastacia J. Nutt
Inner Temples/Inner Convocation®
The Inner Temple Traditions/Inner Convocation (ITIC) ® practices comprise a body of specific teachings, meditations and ritual patterns that enhance our spiritual perception of and practical participation with the inner mysteries of the Western Esoteric Tradition. Through these practices we learn to attune to, commune with and eventually mediate the spiritually transformative and magical powers inherent within the whole of Creation, from the regenerative depths of the UnderWorld, into the world of Nature and the heavenly Cosmos beyond. Drawing upon a long-standing continuum of Western Esoteric sacromagical work, these practices and texts that we work with have been developed and written by RJ Stewart from 1980 to the present.
~ Our New Online Course ~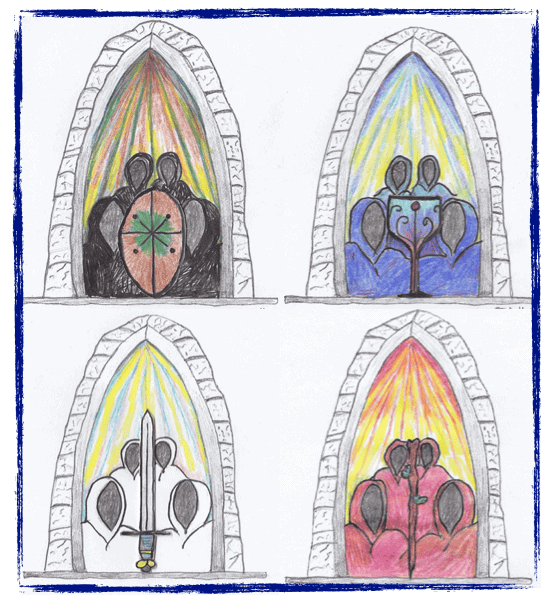 Inner Temple Traditions & Inner Convocation – Part 1
Meeting Dates: Saturdays Sept. 17 & Oct. 1, 15 & 29
Meeting Times: 2pm – 4pm US Eastern TimeOnline via GoToMeeting conferencing system
Cost: Sliding scale $250-200
The Four Inner Temples are deep sources of Life, Light, Love, and Law.
They are the foundation of the Inner Convocation, a perpetual gathering of many beings at the central Pillar of Light. They derive from the Four Roots of Cosmos, described by ancient tradition as Air, Fire, Water, Earth. On our planet they relate to the Four Directions of East, South, West, and North. This holistic model enables some remarkable changes of consciousness.
In the Part 1 online course we will explore and experience the reality of the Four Inner Temples and Convocation as shared and interactive states of consciousness and elemental energy.
This course, foundational to all ITIC work, draws upon the compendium of RJ's Stewarts published over the past 35 years.
To receive course information contact Anastacia directly.
~ Our Online Courses for 2022 ~
CURRENT OFFERINGS:
** Dreampower Tarot Part III – Readings Aug 20, Sept 10 & 24, Oct 8 (PREREQUISITES APPLY)
** The Inner Temple Traditions Part I Sept 17, Oct 1, 15 & 29
** The Mothers of Change Part I Mar 20, Apr 17, May 22, June 19, July 17 & Aug 21
** Salon of the Western Mysteries w/ RJ & Anastacia "Finding the Inner Temples" August 14 1-3pm
** The Old Faery Tradition – Part II Summer 2021-Summer 2022 (PREREQUISITES APPLY)
** The Old Faery Tradition – Part III Fall 2021 – Fall 2022 (PREREQUISITES APPLY)
** NEW Walking the Further Path – July 31 2022 – March 26, 2023 (course details above)
COMING for Winter 2022 – Spring 2023:
Click on links below to receive dates, costs and be placed on early notification list
**The Season of Endarkenment November 2022-February 2023 (Sun or Tues)
** The Mothers of Change – Part II Jan – April 2023 (PREREQUISITES APPLY)
~ Twice Weekly Inner Temples Online Meditation
At the start of the Pandemic we began a series of Free Guided Meditations (online), twice a week. Anyone can join simply by requesting the link. The meditations from our Inner Temple Inner Convocation ongoing programs are led by RJ and/or Anastacia, with certified teachers E. Sciullo and A. Antoville.  Meditations and Empowered Visionary work include content from RJ and Anastacia's books and recordings, plus original material based on the Western Mysteries. Many people have found our short twice-weekly sessions (20-30 minutes) to be deeply supportive during these times of unfolding crisis. Come and join us! Invite a friend!
---
Our Other Websites & Resources
Celebrating Over 30 Years of Publishing with over 40 titles on Celtic mythology, UnderWorld and Faery Tradition, Tarot, Music, Qabalah and Elemental Magic, RJ Stewart Books offers quality resources to inspire and guide you in your exploration of the magical and metaphysical traditions of the West.
Inner Temple Traditions Inner Convocation ® network. With substantial on-line resources, free texts, and comprehensive information.
RJ Stewart's original website from the early 1990s, with free reading engine that will generate readings with the unique Dreampower Tarot, designed by RJ.